Products & Services
Client Testimonials
"I am especially impressed that I communicate with human beings vs. dealing with telephone recorded systems AND that the very timely responses to my needs (often report[s]) result in emailed reports w/in a minute or two. I couldn't ask for quicker turn around time ... !!!!!!"
Corporate Payroll Manager - 12/15
Time and Attendance
Collecting employee time and attendance information can be time consuming and inaccurate resulting in lost time and overpayment.

Harpers' time and attendance system increases productivity by automatically implementing and enforcing your work rules and pay policies. Labor intensive timecard scoring and entry to payroll are eliminated, resulting in increased accuracy and time savings. The system will also help you understand what Health Care Reform means for time and attendance tracking.

Experience one of the most accurate and versatile web-based time and labor management applications on the market. This application has been created to address the complex and evolving needs within your industry.

WebTime can help you streamline processes associated with the completion of payroll, while assisting you with your compliance efforts with applicable labor laws.

Not only does it collect attendance data, but it allows for powerful reporting and configurability to fulfill virtually any business requirements. Features include employee and manager self-service (ESS and MSS) workflows, configurable business logic, mass edit capabilities, multi-level security, and rich data collection options.

Notifications & Cutting Technologies

The system offers features such as notifications – like reminding employees to fill out timesheets – to reduce time associated with collecting and processing payroll data. PTO requests can be submitted electronically and sent to the appropriate supervisor for approval. System generated emails will notify employees and supervisors for a number of alerts.

Harpers offers employers flexible data collection options that include: swipe card readers, biometric hand scanners and fingerprint readers, web punching, telephony and even mobile applications for Smartphones.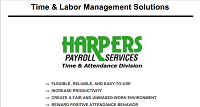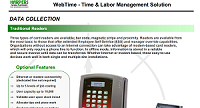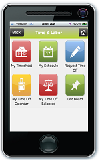 With WebTime, you will have access to:
Employee Scheduling
Accrual Tracking
Exception Tracking
Job Costing
Auto Populated Holiday
Flexible Pay Rules
Pay Categories
Powerful Reporting
Custom Analytics
Mass Edit Capabilities
Notifications
Time Off Request Tool
Manager Self-Service
Employee Self-Service