Support
Client Testimonials
"I would highly recommend Harpers Payroll Services to any company, large or small, looking for a user friendly, compliant software that is backed by personnel with many years of experience in the payroll service industry."
Corporate Payroll Manager - 10/11
Downloads
The following instructions will explain how to install the latest Millennium Tax Database Update using the Firefox web browser.

Please make sure ALL USERS are out of Millennium and it is closed on all computers while the upgrade takes place. It is imperative that all users are out or the update will NOT be successful.
After you click the big green button at the bottom of this page that says "Click Here To Download Tax Update," you will see the following dialog. Click the "Save File" button.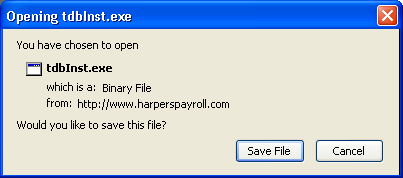 Firefox will begin downloading the file; it may take a couple of minutes to complete. Firefox may automatically open the "Downloads" dialog, shown below. If it does not, click Ctrl+J to open it yourself.

The first item in the list will be the Tax Update installer. Double click on it to run it. You will get the warning dialog below. Go ahead and click OK.

When the Millennium Tax Update installer starts click "Next" and it will install the database. Some users may require their computer to be restarted after the update. If your computer requires a restart the Tax Update application will provide you notification.
Click Here to Download Tax Update
If you have any questions or problems, please contact your Customer Service Representative at 800-696-2027.