Products & Services
Client Testimonials
"I am especially impressed that I communicate with human beings vs. dealing with telephone recorded systems AND that the very timely responses to my needs (often report[s]) result in emailed reports w/in a minute or two. I couldn't ask for quicker turn around time ... !!!!!!"
Corporate Payroll Manager - 12/15
Payroll For Craft Breweries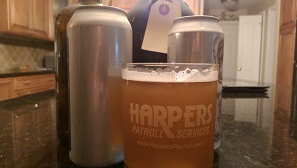 Making great beer is by no means easy, but it is extremely rewarding. While focusing on each grain of wheat and petal of hop, building and running a business to brew great beer brings administrative burden and distractions. Harpers Payroll Services can deliver operational efficiencies and reduce your expenses to free up your time and let you focus on the passion for brewing that has led to your success.

Much like in the beer industry, there are a handful of juggernauts that carry the market share in the field of Employer Services. And just like breweries like yours, Harpers Payroll stands out from that group as a regional powerhouse that is aligned with the same core values that are so important to your business. Superior customer interactions, a dedication to quality and a desire to evolve and never settle are just some of our shared philosophies.

Harpers Payroll Services is New England's largest independent payroll service provider with thousands of happy clients all over New England. We process payroll for many industries including breweries, restaurants and hospitality groups.

Many companies choose Harpers to increase efficiency, receive more personalized service and save money on processing cost. We provide the reports and functionality that breweries, tap rooms and restaurants need, including: Shortfall Reports, Unused Deductions, FICA Tip Credit Report and we have the ability to interface with POS systems.

Our clients enjoy flexible and easy to use software, supported by industry leading customer service. Moreover, our clients typically save 20-40% on payroll processing charges when compared to the national payroll companies. Our solution is a fully integrated cloud based Payroll/HRIS with Employee Self Service, Applicant Tracking & On-boarding and Time & Attendance.